20 Modern Home Office Ideas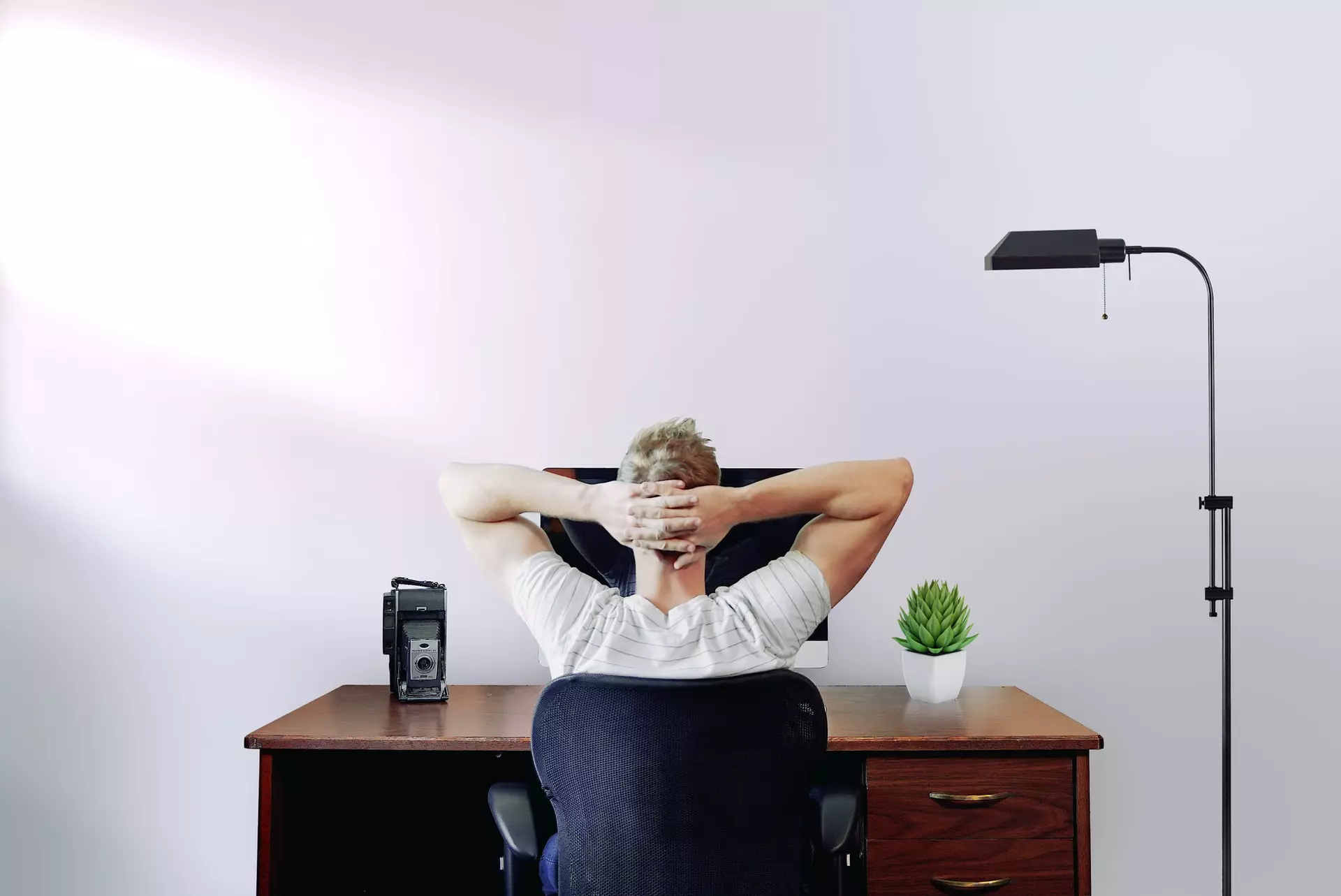 Now, more than ever, home offices have become the norm.
What was previously seen as short time bursts of working from home have now become full-time lifestyles for people – and as such need to be designed for the job.
Today's home office needs to be more than a chair and the kitchen table: it needs to be comfortable, ergonomic, productive and inspirational. Looking to upgrade your own home into a modern office space?
Well, whatever your tastes are, we've put together some good modern home office ideas to help you plan your ultimate home workspace.
A Room With A View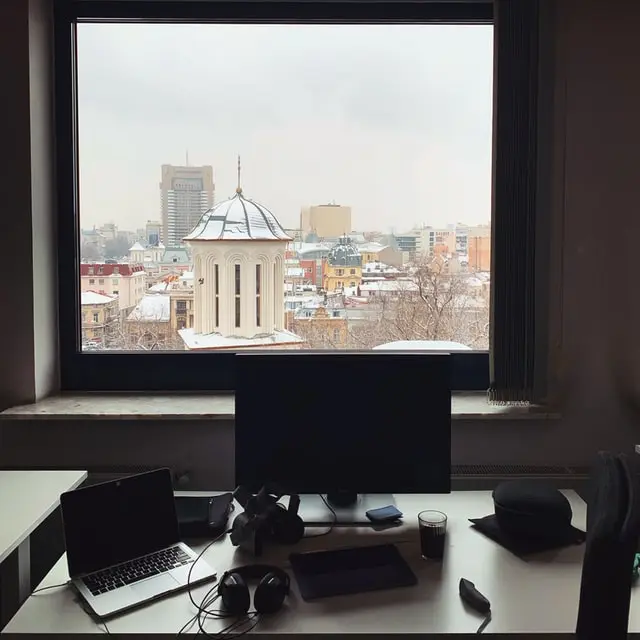 Consider working in a visual space such as in a room that has a view or at the very least an office with a glass wall.
This way, when you are having writers block you can take a few minutes to zone out and almost 'enjoy the outdoors' while still sitting indoors.
The not only do home offices with windows or glass walls let more light in, but they can also help create the impression of more space.
If you're lucky enough to work in a spacious home office with a view, then we recommend taking advantage of it!
Light It Up
Home offices don't have to be too sterile. While they are a workplace, lights can go a long way in giving it a bit of character, while supplying the room with the proper illumination. You can choose from retro-themed lamps through to the ultra-modern – and even some LED strips if you're feeling funky.
Desk lamps are often overlooked, but can also be decorative and practical at the same time. We recommend going for more cold lights, as the softer and yellow varieties can lead to eye strain or even sleepiness.
Another alternative is to place your working area in a place with as much natural light as possible, but be careful of window reflections not causing too much glare on your working monitors.
Neutral Colours Can Help
Modern home offices are usually painted in whites and off-whites as they represent a clean mind. The added advantage of simpler colour schemes is that your other decorative elements will blend in easier without clashing too much.
Lighter and whiter walls have the added advantage of being hospitable for prints, pictures and paintings, so if you're going for the lighter choice, the walls will be your canvas.
Or, You Can Liven Things Up
If you do prefer colours, then that's not necessarily a bad thing! There's plenty of psychology behind the effects that certain colours can have on mood and productivity.
For instance, soft and light greens are often associated with calmness, and are a popular choice for people putting together home offices.
Whatever colour you decide to go with, ensure that it is not too intense, as this can make the room feel smaller
One other thing to keep in mind is to choose a colour that fits the rest of the room. If your carpets and curtains look too different, the room may give off a chaotic feeling, which can also lead to distraction.
Remember; Minimalism Matters
When it comes down to it, your home office doesn't need to be much more than a good desk, chair and lighting. It might be tempting to really make the room your own, but if you have too many decorative elements around you, the visual noise can be distracting.
For instance, your desk should only have what you need to work, and a few photos of loved ones of course. If you start decorating it with plants, artefacts and ornaments, you'll find that they get in the way more often than not.
Desks Make A Difference
If you've not had a permanent home office before, chances are that any desk you have are pretty basic. And let's not even talk about the kitchen table. As the centrepiece of your home office, choosing the right desk can make a lot of difference. As well as giving you all the practical space you need for paperwork, monitors and computers, it can really define the tone of the room.
You also consider buying a floating desk for a clean minimal look that still provides plenty of room to work. They are also useful if you have lower back issues.
Finally, a third option is to buy a built in desk. These are good for blending in with any room with a minimalistic finish.
The position of your home office desk makes a big difference as well. If you can, position it in front of a window to get that all-important natural light, and where possible, in the centre of the room.
If not, then consider a desk lamp. They are useful on just about any work surface including your desk. A good desk lamp can stand directly on your desktop or even be mounted on your wall.
Chair Considerations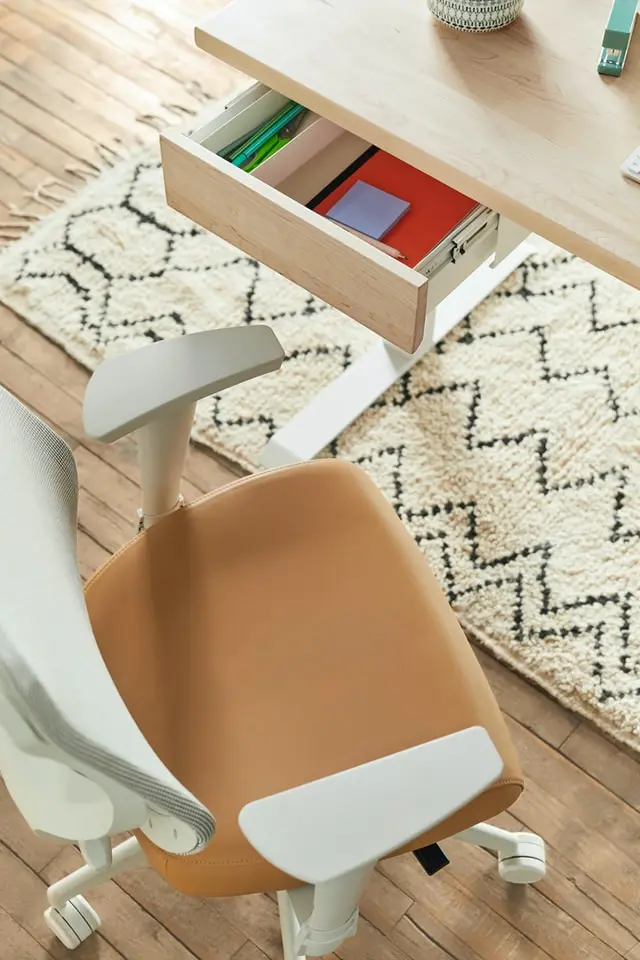 It's time to stop sitting on kitchen chairs when doing your work.
It's bad for your posture, is uncomfortable and is therefore distracting. When kitting out your home office, it will be tempting to go for something trendy and attractive – and while that's ok, make sure that it is comfortable and ergonomic.
Pick something supportive that suits the way you work and try and ensure it has armrests – they might be bulky but they ensure the comfiest seat. For example, a leather chair would fit in a library feel, acting as a sanctuary to read and reflect, whereas an upright swivel chair better suits written desk work.
Whatever catches you fancy, give it a thorough sit-test!
Mirrors Make Apace
In many cases, home offices are usually the smallest room in the house, and therefore may have limited light.
As one of the oldest interior design tricks, mirrors can really pull their weight when it comes to creating the sense of more space and distributing light more evenly.
And, they can look great too! Mirrors come in many designs, including classic and modern, so whatever the vibe of your home office is, you're bound to find something that suits.
Plants Are Amazing
No matter which ones you get, plants can really transform your home office.
As well as helping to clean the air, they can come in a range of light and fresh colours which can really take away the 'heaviness' of a home office.
They can also have a positive psychological effect as they are something natural and living, meaning that you won't feel too claustrophobic when works gets tough.
Other advantages of having plants in your home office include;
They can help with productivity – According to one study, a happy employee makes a productive employee. We can't argue there!
They can help inspire creativity –  Similar to productivity, plants can help give people a phycological edge by encouraging workers to be more creative in their thinking.
So what are you waiting for? It's time to order your leafy friends to your office workspace.
A Balcony Office
If you're tight on space and do not wish to convert your family room into an office space, if you're lucky enough to own a balcony in your home you could consider converting this in to your new workspace.
Small balcony office designs offer an excellent opportunity for dedicated space saving and will allow you to shut yourself away from any outside noise and interference.
You should be able to fit in a working desk with a computer, office chair and other office supplies you might need.
Rugs Can Pull It All Together
Although practicality often comes first when it comes to your home office, there's nothing wrong with making it feel a little more homely and cosy as well.
After all, it's still in your home! Rugs and carpets are a simple way to bring this comfort to your home office without actually taking up any real space.
You can go for basic colours or patterns that are more daring – just ensure that they will somewhat fit the colours of your walls and curtains, or you may be in for a clash.
Opt for neutral tones and lighter shades if you're looking to keep the room feeling light and airy.
Go For The Classic Wooden Theme
Wood panelling has long been favoured by in older buildings such as libraries and offices. It can give the feeling of elegance and offers a classic feeling of age and wisdom.
Why not consider wooden flooring for a sleek and impressive finish on to the room.
You can even consider softening your home office floor with a area rug scaled to fit the area
Oriental Inspired
Not a fan of the wooden look?
How about a Japanese inspired home office? Considered slick, minimalistic but above all else something a little different for your modern home office design.
Whisk your work environment with a Japanese-inspired home office through oriental minimalism. Imagine slick clean surfaces, efficient functionality of its office furniture and and you can even consider buying bonsai tree to finish off the look.
Go Luxurious
Moving on, if you have the budget for it, why not try going for something a little more elegant, or modern?
While minimalistic is often good, going down this path can make a real impression with potential business clients and partners.
To make your home office luxurious you could consider the following items :
A stainless steel working desk
Designer desk lamps
Expensive wall art
A luxury carpet
even a ceiling fan to suit.
Dark Office
Next for our home office design ideas is going for a more mysterious yet captivating home office look.
Darker home offices can be just as charming and efficient as lighter rooms. Not only can they still bring an air of sophistication to your home office space, but they will also allow you to add a touch of something different to your home.
Imagine beautiful black brick dark walls, a shiny hardwood floor with a modern filing cabinets and even glass open shelving.
Tropical Vibes
Something a little more unconventional as a modern home office idea, but can certainly add that "Jumanji" edge to your work space.
A tropical themed home office will mainly require natural greenery and more nature-styled decor than other modern home office design ideas.
Scandinavian Vibes
A Scandinavian-style home office could be the way to go. Often considered minimal whilst using basic colours such as black and grey, there is most likely plenty of Scandinavian furniture you can find online to compliment a modern style.
A Loft Office
Do you have an attic or a loft? If so, your perfect home office could actually be tucked away right upstairs in your home.  Some of the benefits of a loft office include the following:
Its affordable : Rather than considering an office rental elsewhere, a loft office work space allows you save heaps of money by avoiding renting out. On top of this, you'll also save yourself tons of fuel driving to your office, toll costs, parking and any other obvious travel expenses associated with commuting.
Almost A Completely Separate Room: The best thing about working upstairs in the loft is that you will have far fewer distractions. While the rest of your household might be downstairs making a racket, you'll have complete peace of mind knowing that you are hidden away from all the chaos.
Space For Additional Employees: Another advantage of converting your loft into a modern office is that you may have enough space for others that work with you.
Consider A Little Artwork
One way to bring your home office to life is to consider adding a some simple artwork to make your work area feel defined.
Just a few modern pieces to go on your wall, such as black and white photographs or ink sketches can go a long way to creating a real modern space.
Similar to plants beautiful and inspiring artwork in your home office can potentially improve your motivation and enhance creativity in the work place. It's also shown to reduce stress levels.
Make It Your Own
Ok, we've been leaning on the practical side of things for most of our recommendations, but we do have to highlight that this is a HOME office – meaning that you want to feel comfortable and happy in your productive environment.
Avoiding clutter is always a good idea, but that doesn't mean the space needs to be devoid of personal effects and artefacts. Take the thing to put up some simple shelves and displays to give your home office a comforting feel, and something you can be proud to show off.
So there you have it, 2o modern office ideas that you can consider . All though some of these design ideas are not for everyone's fancy, there are bound to be one or two in here to help make your office space feel special for both you and potentially employees too.
Additional Office Reading